Our emails and voicemails are starting to get away from us, so we have decided to shift our tour scheduling to self-service on SignUp Genius, available to you 24/7.
The process is simple!
Simply visit our SignUp, select the date and time slot you prefer, and then sign up using your name and email (neither is made public), and be sure to select how many people you anticipate being in your group. Then you register, receive a confirmation email immediately, and your tour appointment syncs to our calendar!
It's so much faster than waiting on email messages back and forth or waiting for us to go through the shocking number of voicemails we have. And we are less likely to accidentally over-book a time slot, which is also helpful. It's definitely a win-win.
Check it out!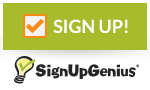 Of course you may contact us with questions about the farm boutique, livestock sales, or special events!